Introducing the 1L Oil Bottle Mould - an innovative and reliable mould designed to help manufacturers, factories, and wholesalers streamline their production process and increase their productivity.
This high-quality mould is an excellent investment for businesses in need of a consistent and efficient solution for producing 1L oil bottles.
The 1L Oil Bottle Mould features a robust construction that ensures its longevity and consistency. Its core and cavity steel is made from premium materials such as S136, FS636, and 632 (Chinese Steel), and ASSAB S136 (Sweden), with a steel hardness rating of HRC52-55. The mould base is composed of P20, 4Cr13, and Standard Mould Base, which have a hardness rating of HRC30-35. The high-quality construction of this mould ensures that it can withstand the rigours of continuous use without compromising its structural integrity.
This mould is designed to work with a variety of plastic materials, including PP, PE, and HDPE. Its injection system includes pin gate, submarine gate, and valve gate options, allowing businesses to customize their production process to fit their specific needs and requirements. Additionally, the mould's ejector system includes unscrewing by motor, stripper plate, ejector sleeve, and ejector pin options, which enhance its efficiency and make the production process faster and more streamlined.
The 1L Oil Bottle Mould's cavity number includes 1x4, 1x6, 1x8, 1x12, 1x16, 1x24, 1x32, and other options, allowing businesses to produce a range of bottle sizes and shapes. The mould's cycle time is based on the bottle design, and its delivery time is estimated to be between 45-60 days. This mould is designed to last for at least 3 million shots, making it a worthwhile investment for businesses in need of a long-term solution. Additionally, it comes with a one-year warranty or 1 million shots, whichever comes first, giving businesses the confidence they need to invest in this high-quality mould.
In conclusion, the 1L Oil Bottle Mould is an exceptional investment for manufacturers, factories, and wholesalers in need of a reliable solution for producing 1L oil bottles. With its durable construction, versatile plastic material compatibility, and customizable injection and ejector systems, this mould is guaranteed to deliver consistent and high-quality results for years to come. Contact us today to place your order and experience the difference this mould can make in your business.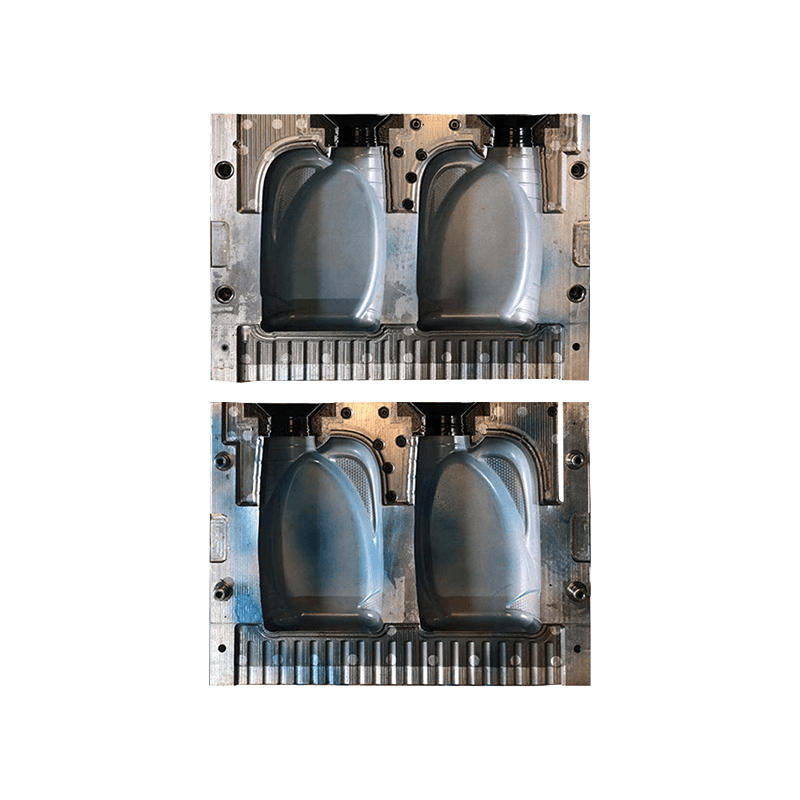 The HDPE bottle mold is used in extrusion blow molding machine, the plasticization system controlled by frequency conversion ensures the thorough and uniform quality of the plastic, the whole production process is controlled by proportional hydraulic pressure, and the patented lined extrusion head ensures straight lines and sharp edges.
It can be used as a combined or side gate. The bottle mold material can be made of aluminum or 45# ,50# or 718... according to customer needs. The oil container is made of plastic and hollow. The bottle body is smooth and has a handle design. Spiral mouth design, thicker bottle body and bottle bottom, and blow-molded products are drop-proof and leak-proof. Product capacity and whether to add scale lines will be processed according to customer requirements. The bottle mold has the characteristics of two cavities, and the production efficiency is high.
How to place an order for moulds?
1.R&D
We support customer R&D. Make the files or improve the design if you needed.
2. Quotation Making
Mould Quotation will be finished in 1 day according to the information we get.
3. Negotiation
The quality, price, material, delivery time, payment item, etc.
4. Mould Design
1-2days for product 3D/2D drawing design as per customer's design. Then in further make the mould 2D/3D design.
5. Mould
1. confirm the products and the mold design
2. Mould material prepare
3. Rough machining(heat treatment on mold base and pre-harden on mold)
4. CNC/ Vacuum Hardening on mold main spare parts
5. finishing machining( JDPAINT, DEM.etc)
6. Dimension inspection
7. Ejector& runner& cooling & other device processes
8. Assemble mold
6. Mould Testing
When moulds are finished, we will test the mould and we will send samples to the client.
7. Sample confirmation
If the first sample is not satisfied by the customer when it is come out. We modify the mould until meet the customer's satisfaction.
8. Delivery
Delivery goods by sea or by air, according to customer's requirement.