PET bottle preforms are generally used in hot runner system, and there should be a heat insulation plate between the mold and the injection molding machine template, the thickness of which is about 12mm, and the heat insulation plate must be able to withstand high pressure. The exhaust gas must be sufficient to avoid overheating or cracking, but the depth of the exhaust port should not exceed 0.03mm, otherwise the flash will occur.
Production process of preform
The quality of the bottle depends on the quality of the supplied preform, and there are two kinds of preform injection molding, long tail and short tail. There are more domestic bottle preform manufacturers who choose short tail, while there are more foreigners who choose valve pin system. As the bottom of gate is cut off, the tension is evenly distributed during the blowing process, so that the quality of the blowing bottle will be better. In addition, the cut off part can be recycled, which is conducive to saving the material cost. The control of the quality of the preform in the production process depends on the degree of control to prevent the preform from being scratched in the transportation process.
Processing of plastic: Since PET contains lipid groups in its macromolecules, it has a certain hydrophilic nature, and the granules are sensitive to water at high temperatures, when the water content exceeds the limit, the molecular weight of PET decreases during processing, and the products become colored and brittle. Therefore, before processing, the material must be monotonic, the monotonic temperature is 150 ℃, more than 4 hours, generally 170 ℃, 3-4 hours. The air injection method can be used to check whether the material is completely monotonous. The proportion of recycled material should not exceed 25 in general, and the recycled material should be completely monotonous.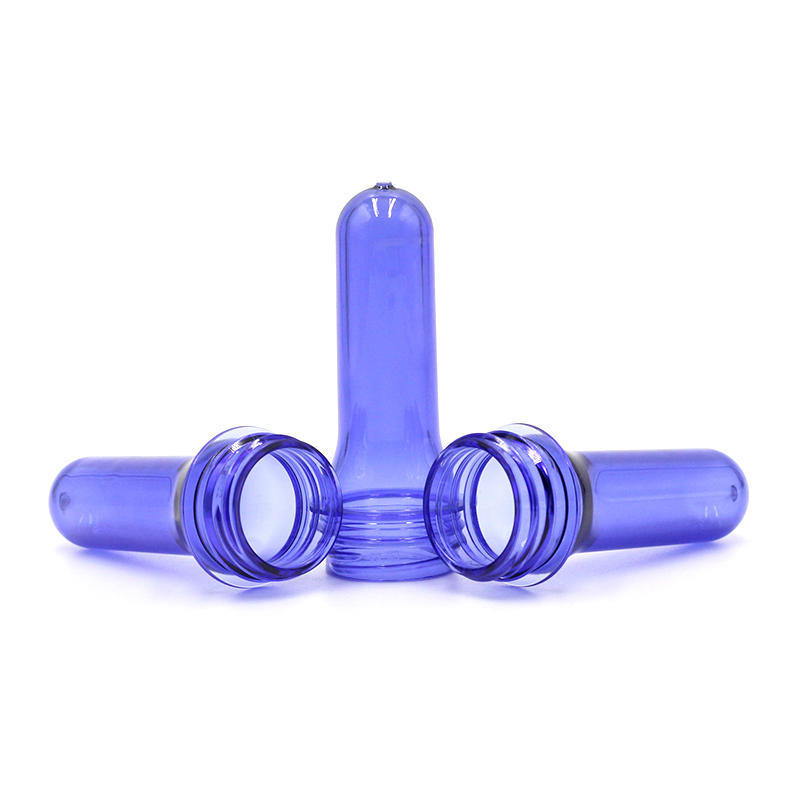 | | | | | |
| --- | --- | --- | --- | --- |
| NECK TYPE | WEIGHT | HEIGHT | QTY/CTN | CARTON SIZE |
| 38mm 2start PET preform | 18g | | 1080 | 50x38x28 |
| 38mm 2start PET preform | 20g | | 1080 | 50x38x28 |
| 38mm 2start PET preform | 26g | | 648 | 50x38x28 |
| 38mm 2start PET preform | 28g | | 648 | 50x38x28 |
| 38mm 2start PET preform | 30g | 101mm | 588 | 47x31x34 |
| 38mm 2start PET preform | 32g | 101mm | 588 | 47x31x34 |
| 38mm 2start PET preform | 52g | 140mm | 285 | 53x33x33 |
| 38mm 2start PET preform | 59g | 152mm | 240 | 47x31x34 |
| 38mm 2start PET preform | 64g | 152mm | 240 | 47x31x34 |
| 38mm 2start PET preform | 70g | 150mm | 150 | 53x33x33 |
| 38mm 2start PET preform | 75g | 150mm | 150 | 53x33x33 |