PET Preform Moulds
PET Preform Moulds are used to make preforms of plastics. They are designed and constructed according to the specific requirements of the product. To ensure good quality, the mold must be manufactured using the appropriate materials. In addition, the mould must be well-polished to provide a nice finish to the finished casting.
When the mould is injected into the injection molding machine, the molten plastic fills the cavity under pressure. This gives the part strength. However, the mould must be maintained at a temperature of five to fifteen degrees Celsius. It is also necessary to ensure a correct cycle time. If the temperature is not correct, the plastic may become opaque or spherocrystals may form.
A pet preform mould is made up of two parts - the mould halves and the backing plates.
These halves are clamped to each other and held together by guide pins. The mould is then mounted in a press.
PET preforms are manufactured by the injection molding process. They are produced using special steels and other material. PET preforms are usually heat-treated. Therefore, they need to be hardened to ensure a high level of compressive strength. There are many different kinds of raw materials for the industry.
Some of the common elements of PET preform moulds are the sprues and the hot runner. These are the two main components that control the shape of the item being moulded. Besides the sprues, other devices can be included to enable accurate production.
To improve the overall performance of the mould, it is essential to provide a rapid cooling system. Moreover, the water channels should be designed in a reasonable manner. Otherwise, the mold may jam or not function properly.
Injection molding of PET materials requires managing the area where the plastic temperature inside the mold changes. Generally, the area is between 270 and 280 degrees centigrade.
To achieve a high degree of precision, it is important to use a premium nitride steel. Such steels offer durability and better hardness. Another important factor to consider is the use of a valve gate system. While a valve gate system can often fit in the mould without increasing the footprint, it must be designed to fit the manifold of the injection molding machine. Using a valve gate system reduces the amount of stress on the PET preform and increases the operating window.
Similarly, the hot runner system must be designed to offset the operating mechanism. Normally, a valve gate system is positioned on the centerline of the mould. This prevents unacceptable marks from forming on the parts. Additionally, it provides the least amount of stress on the PET preform.
All in all, a good PET perform mold must be designed with the most suitable processes and materials. In addition, it should be polished to a fine finish so that the molded part can be easily removed.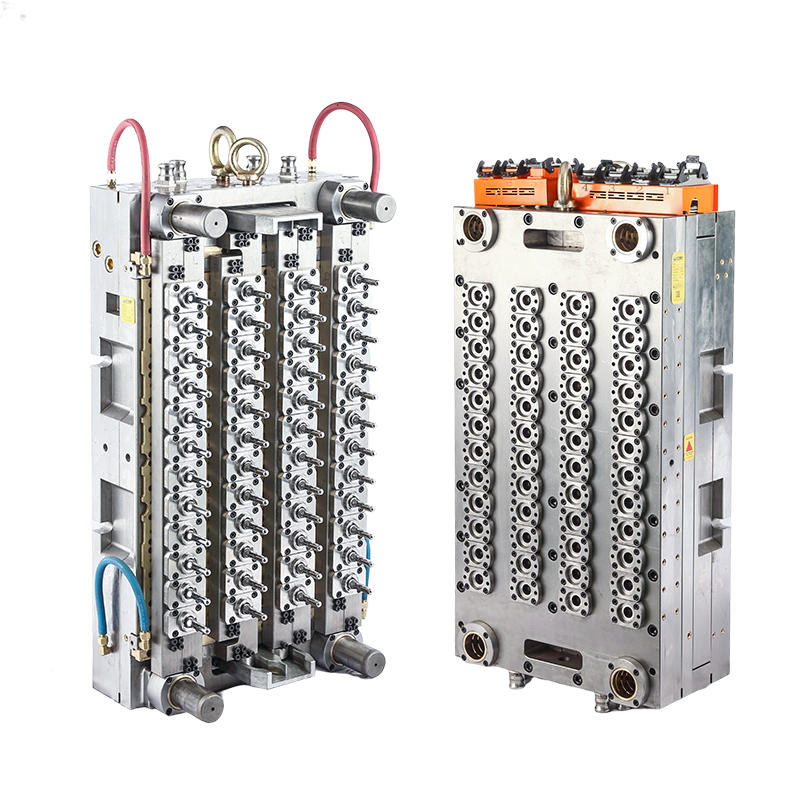 48 Cavity PET Preform Mould
Product Name
48 Cavity PET Preform mould
Core &Cavity Steel
S136,FS636,632 (Chinese Steel)
ASSAB S136(Sweden)
Mould base
P20,4Cr13, Standard Mould Base
Steel hardness:
HRC32-35 for slider and stripper palte and other plates
HRC49-51 for core and cavity material.
HRC49-51 for Neck ring and Lock ring
Plastic material
PET resin
Cavity Number
1x8, 1x16,1x24,1x32,1x48,1x64,1x72
Injection System
Short tail, Long tail, Pin Valve gate
Ejector System
Stripper plate
Cycle Time
Based on preform weight
Delivery Time
45-60 Days
Mould lifetime
At least 3million Shots
Warranty Time
One Year or 1million shots