The plastic preform factory has its own workshop, and has basically mastered the key points of product injection molding and the blow molding process. Now, it is up to the editor to decipher this part of the content for you.
Key points of injection molding in plastic preform production plants:
1. Injection speed
Generally, the injection speed should be fast to prevent premature coagulation during injection. But too fast, the high shear rate makes the material brittle. The injection is usually completed within 4 seconds.
2. Stay time
Do not use too long residence time to prevent molecular weight loss. Try to avoid temperatures above 300°C. If the downtime is less than 15 minutes. Only need to do air injection; if it exceeds 15 minutes, clean it with viscosity PE, and lower the temperature of the barrel to PE temperature until it is turned on again.
3. Selection of injection molding machine
Because PET stabilizes for a short time after the melting point and has a high melting point, it is necessary to use an injection system with more temperature control sections and less self-friction heat generation during plasticization, and the actual weight of the product (water-containing material) should not be smaller than that of the injection machine. 2/3 of the amount.
4. Back pressure
The lower the better, to avoid wear and tear. Generally not more than 100bar. Normally not used.
Introduction to the blow molding process of plastic preform production plants
1. The parison is installed on the nozzle of the machine, and then put into the mold, which is divided into two halves.
2. The hot air passes through the blowing head to form a billet and expands to the shape of the mold.
3. Cool in the mold for a few seconds before demoulding.
4.Remove extra materials at both ends to complete the finished product.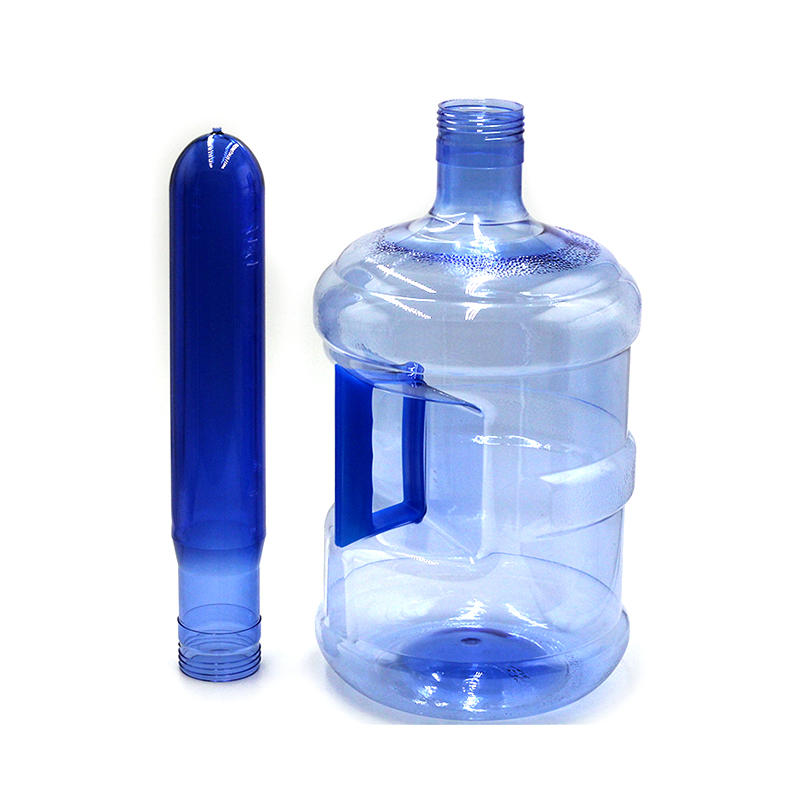 | | | | | |
| --- | --- | --- | --- | --- |
| NECK TYPE | Neck size | WEIGHT | QTY/CTN | CARTON SIZE |
| 1gallon PET preform | 55mm | 180g | 76 | 58x22x40 |
| 1gallon PET preform | 55mm | 210g | 76 | 58x22x40 |
| 2gallon PET preform | 55mm | 250g | 76 | 60x25x40 |
| 2gallon PET preform | 55mm | 270g | 68 | 51x28x40 |
| 3gallon PET preform | 55mm | 300g | 68 | 51x28x40 |
| 3gallon PET preform | 55mm | 320g | 51 | 53x32x33 |
| 4gallon PET preform | 55mm | 350g | 51 | 53x32x33 |
| 5gallon PET preform | 55mm | 400g | 51 | 54x34x34 |
| 5gallon PET preform | 55mm | 450g | 43 | 56x27x36 |
| 5gallon PET preform | 55mm | 480g | 43 | 26x27x36 |
| 5gallon PET preform | 55mm | 580g | 34 | 58x22x38 |
| 5gallon PET preform | 55mm | 650g | 26 | 58x41x17.5 |
| 5gallon PET preform | 55mm | 680g | 26 | 58x42.5x18 |
| 5gallon PET preform | 55mm | 700g | 26 | 58x42.5x18 |
| 5gallon PET preform | 55mm | 730g | 26 | 58x42.5x18 |
| 5gallon PET preform | 55mm | 750g | 26 | 58x43x18 |
| 5gallon PET preform | 55mm | 800g | 26 | 58x43x18 |
| Beer Keg PET preform | 55mm | 300g | 51 | 51x28x40 |
| Beer Keg PET preform | 55mm | 400g | 51 | 51x28x40 |
| Beer Keg PET preform | 55mm | 500g | 51 | 51x28x40 |