A PET Preform Mold is an injection mould that produces PET preform. Its various types of bottles can be produced, including carbonated water, mineral water, pesticides, oils, cosmetics, wide-mouth and hot-fill bottles. The advantages of PET preforms over other types of plastic bottles are endless. Taizhou Shunke Moulding Co., Ltd is a reputable company that started manufacturing preform moulds. With their extensive experience, they can provide customers with high-quality products at competitive prices.
The main components of a PET preform mould include the following: an injection molding machine, a hot runner mold, ester particle dehumidifying dryer, and a preform conveyor belt. Injection molding equipment plays the most important role in the preform molding process. To ensure the quality of PET preforms, a preform mould must be built to the highest standards. It also needs to be competitively priced.
PET preform moulds can be made from plastics that contain up to 40% of water. These moulds can be drilled to allow steam and water to pass through, as well as containing guide pins for aligning the mould halves. Besides, they are more durable and wear-resistant because of their finish. If you want to make an injection mould with PET, you can contact us. We can design and produce a PET preform mould to fit your needs.
Another important factor is the quality of the plastics used in a PET preform mold. If it is made of a low-quality plastic, it will not be opaque. The same goes for a mould that is too hot. Hot runner systems are designed for the production of PET bottles, and these molds should be designed to accommodate this. If you are not careful, you can end up with a poor-quality plastic product.
Injection molding is an important process in the plastics industry. A PET preform mold is a tool that molders use to produce the basic part of a product. Its design is dependent upon a number of factors, including the products to be molded in plastic. Product designers and toolmakers should be in sync with each other in order to achieve the best results. This way, both parties will benefit from the end product.
The temperature of a PET preform mold is critical. It must be low enough to avoid the occurrence of thermal stress, but not too high. Too high a temperature will result in "white fog" or an opaque product. You should also consider the stretch ratio of the product before making it. High stretch ratios are good because they stretch the flaws out. And remember to use large wrap-around labels to hide visual flaws.
A PET melt breaks when it meets another material that is hotter inside the nozzle. The cold gate vestige has a higher viscosity than the melt. It can prevent stringing, a defect that affects the strength of the PET. A small air gap may also help with separation. Regardless of how you manufacture your PET preforms, you need to choose a high-quality mold. The right one will provide the highest quality product at the lowest cost.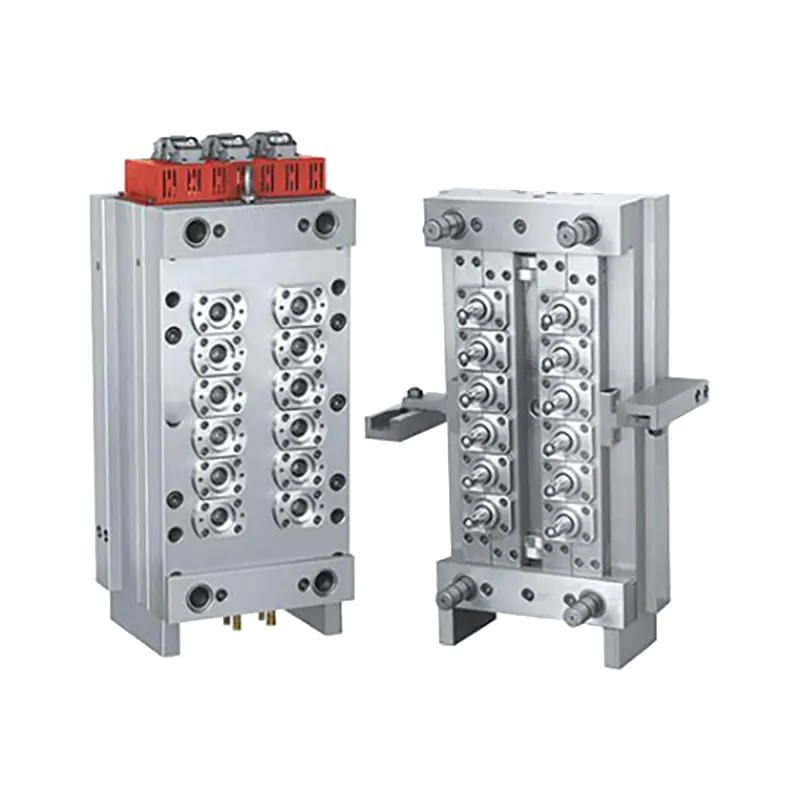 Product Name
12cavity PET Preform mould
Core &Cavity Steel
S136,FS636,632 (Chinese Steel)
ASSAB S136(Sweden)
Mould base
P20,4Cr13, Standard Mould Base
Steel hardness:
HRC32-35 for slider and stripper palte and other plates
HRC49-51 for core and cavity material.
HRC49-51 for Neck ring and Lock ring
Plastic material
PET resin
Cavity Number
1x8, 1x16,1x24,1x32,1x48,1x64,1x72
Injection System
Short tail, Long tail, Pin Valve gate
Ejector System
Stripper plate
Cycle Time
Based on preform weight
Delivery Time
45-60 Days
Mould lifetime
At least 3million Shots
Warranty Time
One Year or 1million shots