Taizhou Shunke Moulding Co., Ltd sells blow molding machines that can make plastic products like bottles, caps, and toys. They are classified into five main categories: reciprocating screw, accumulator head, continuous, and injection blow and stretch. When selecting a blow molding machine, you must first understand the purposes of the product. Once you understand the purpose of the machine, you can choose a suitable model. You can then begin determining its specifications. Taizhou Shunke Moulding Co., Ltd offers blow molding machinery in a variety of styles to match the needs of your company.
HDPE blow molding machine
If you're planning to buy an HDPE blow molding machine, you need to choose a reliable manufacturer. A good manufacturer will not only produce quality products, but also train the operator on how to use it. After installation, you can take advantage of their commissioning services to get your new machine running smoothly and meet your production output goals. If you're still unsure about which manufacturer to choose, read on to learn more about the advantages of HDPE blow molding machines.
HDPE blow molding is a process by which a soft thermoplastic called Parison is vertically extruded from a die head. This expanded plastic then solidifies against a closed mold's surface. HDPE blow molding produces many products that are common in the market today, such as plastic bottles for cleaning agents. Other examples include plastic drums and tanks for chemicals and water. The process can be used for a wide variety of products, ranging from toys to pallets.
To produce high-quality HDPE plastic, you need a blow molding machine that can produce precision shapes. This machine is capable of producing a wide variety of parts, from jumbo-sized ice-cream containers to jars for candy. It is a great investment for your business. And since it's easy to maintain, you won't have to worry about breaking or degrading. In fact, HDPE blow molding machines can save you time and money.
Automatic blow molding machine
When purchasing an Automatic blow molding machine, it is important to take several factors into consideration before buying. One of the most important considerations is the type of product that you will be producing. Some of the more common products include plastic bottles, blown glass, and other similar products. The type of product you will be producing will determine which die heads you purchase. Here are some general tips for choosing the right type of blow molding machine. Listed below are some of the most important factors to consider.
Automatic blow molding machines are best for making bottles for different purposes. These machines are used for producing bottles of all shapes and sizes. Some types can be used to produce different shapes, such as plastic bottles. Some models can be programmed to mold other items, including glass bottles, too. The machines are easy to operate with a touch screen control system and have a high-precision infrared heating system. With this technology, you can create a wide range of high-quality products with minimal waste.
Another important factor to consider when purchasing an Automatic blow molding machine is its capacity. The E series is the most common model, and it is capable of molding PET and PP plastic containers. These machines are efficient and economical and feature a patented preform heating system. A large number of different bottle specifications are supported by the E series, including different bottle shapes. The cost of an Automatic blow molding machine is low, and the machine is safe to use.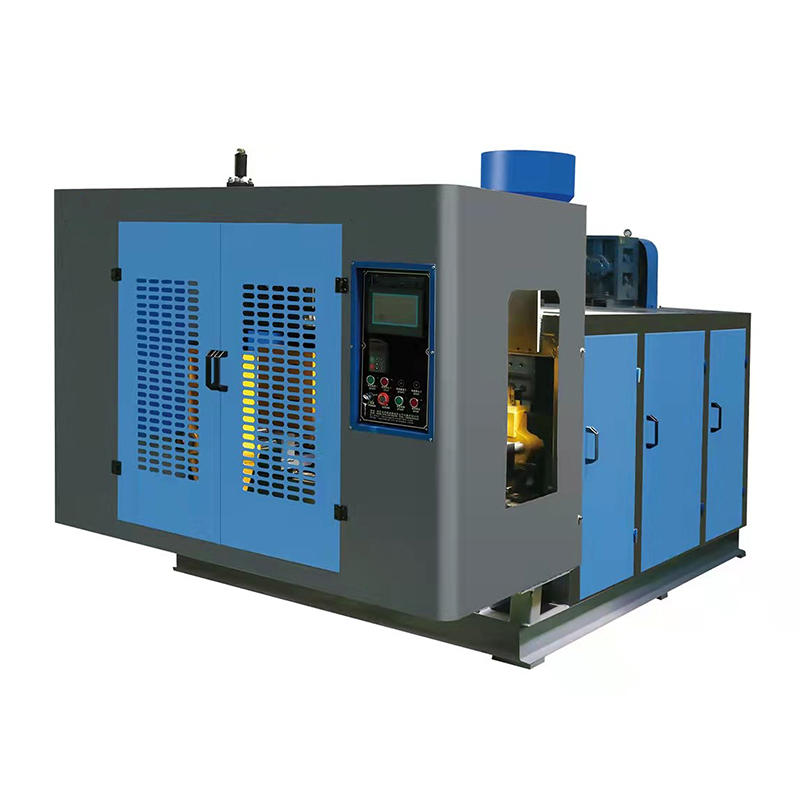 Description:

● Control system: PLC+Hand-touch screen+PLC automatic temperature control model+Imported electronic parts.
● Hydraulic system: Hydraulic valve, seal and servo control.
● Extrusion system: Hard gear surface decelerator+Converter.
● Die system: Central incoming extrusion die with special steel.
● Clamping system: Double station+High precision guide rail+Large arm cylinder axle.

| | | | | | |
| --- | --- | --- | --- | --- | --- |
| Specification | | SK-65B | SK-75B | SK-80A | SK-90A |
| Max. product volume | L | 3L | 5L | 10L | 25L |
| Number of die | set | 1 or 2 | 1,2,3,6 | 1 or 2 | 1 or 2 |
| Dry Cycle | Pcs/h | 1000x2 | 600*2 | 300 | 300 |
| Machine Dimension (LxWxH) | M | 3.1x1.7x2.1 | 3.2x2.4x2.3 | 3.8x2.4x2.6 | 4.3x2.4x2.6 |
| Total Weight | T | 4 | 4.8 | 6 | 6.5 |
| Clamping Unit | | | | | |
| Clamping force | KN | 40 | 60 | 120 | 150 |
| Platen opening stroke | mm | 140-380 | 180-520 | 280-580 | 280-580 |
| Platen size | mm | 290x320 | 320x390 | 450x500 | 450x500 |
| Max mould size(WxH) | mm | 290x320 | 350x390 | 450x500 | 450x500 |
| Mould thickness | mm | 110-210 | 180-230 | 200-300 | 280-350 |
| Extruder Unit | | | | | |
| Screw Diameter | mm | 65 | 75 | 80 | 90 |
| Screw L/D ratio | L/D | 25 | 25 | 25 | 25 |
| Plasticsing capacity | Kg/hr | 70 | 80 | 90 | 100 |
| Extruder heating power | KW | 15 | 12 | 4x6 | 4x6 |
| Number of heating zone | zone | 3 | 3 | 4 | 4 |
| Extruder driving power | KW | 15 | 22 | 30 | 37 |
| Die-head | | | | | |
| Number of heating zone | zone | 3-5 | 3-5 | 3 | 3 |
| Power of die heating | KW | 6 | 6 | 6 | 6 |
| Center distance of single die | mm | 160 | 160 | 180 | 180 |
| Center distance of double die | mm | / | 110 | 200 | 200 |
| Center distance of six die | mm | / | 80/90 | / | / |
| Max die-pin diameter | mm | 130 | 150 | / | / |
| Power | | | | | |
| Fan power of screw | KW | 0.3x3 | 0.3x3 | 0.3x4 | 0.3x4 |
| Motor power of oil pump | KW | 14 | 14 | 14 | 18.5 |
| Air pressure | Mpa | 0.6 | 0.6 | 0.6 | 0.6 |
| Air consumption | m3/min | 0.6 | 0.8 | 0.8 | 0.8 |