Do you know how to look at the quality of the bottle preforms when you choose them? About this kind of problem, maybe some people know part of it, but it is not comprehensive. Here is the introduction of it, and a few common raw material recommendations, welcome to come to know at any time.
Quality standards of the appearance of the preforms
1、Preform mouth
The bottom should be flat, thread intact, crystallized completely, no overflow, no draw, no deformation, no breakage, no bubble, no oil stain or stain inside or outside.
2、Preform body
Good molding, no bubbles, no black spots, no oil stains, no stiff material, no abrasion (length >20mm), no fogging, whitening, uniform color of colored bottles, no obvious color difference.
3、Blank bottom
Good molding, no depression, no turning out, no deviation from the center point, no rupture, no layering, the length of the water spout is less than 1.5mm, and the silk is less than 5mm.
Introduction of raw materials for bottle preforms.
1、PVC material
This material is generally used in the outer packaging of products because of its soft texture, high resistance and very good forming, so some of our common toys and cosmetics are made of this kind of material.
2、PET material
This type of material has high quality requirements, and can be used in food packaging.
3、PS material
This type of material is made of bottle blanks because of its poor resistance, as if it is a disposable product.
4、PP material
This material completely meets the requirements of food grade, and the cost of processing is relatively high.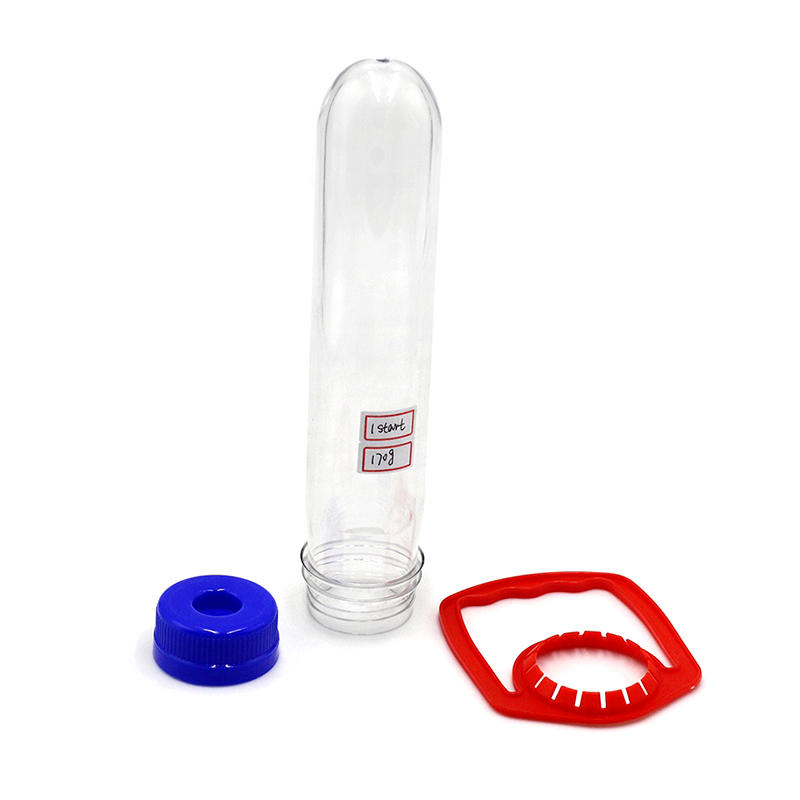 45MM PET Preform

| | | | | |
| --- | --- | --- | --- | --- |
| NECK TYPE | WEIGHT | Height | QTY/CTN | CARTON SIZE |
| 45mm PET preform | 90g | 165.7mm | 160 | 53x33x33 |
| 45mm PET preform | 95g | 165.7mm | 160 | 53x33x33 |
| 45mm PET preform | 100g | 169mm | 160 | 53x33x33 |
| 45mm PET preform | 105g | 180mm | 160 | 53x33x33 |
| 45mm PET preform | 110g | 180mm | 160 | 53x33x33 |
| 45mm PET preform | 120g | 184mm | 144 | 53x33x33 |
| 45mm PET preform | 130g | 184mm | 144 | 53x33x33 |
| 45mm PET preform | 150g | 193.3mm | 120 | 53x33x33 |
| 45mm PET preform | 160g | 200.5mm | 120 | 53x33x33 |