Introducing the 5 Gallon PET Preform Mould - a high-quality mould designed for manufacturers, factories, and wholesalers in need of a reliable solution for producing 5-gallon PET preforms.
This mould is an excellent investment for businesses looking to optimize their production process, as it offers numerous benefits that enhance efficiency and productivity.
The 5 Gallon PET Preform Mould features a robust construction that guarantees longevity and consistency. The mould's core and cavity steel is made from premium materials such as S136, FS636, 632 (Chinese Steel), and ASSAB S136 (Sweden), with a steel hardness rating of HRC49-51. The mould base is composed of P20, 4Cr13, and Standard Mould Base, which have a hardness rating of HRC32-35. Additionally, the neck ring and lock ring are made from HRC49-51-rated steel. This high-quality construction ensures that the mould can withstand the rigours of continuous use without compromising its structural integrity.
The 5 Gallon PET Preform Mould is designed to work with PET resin, a high-quality plastic material that is widely used in the packaging industry due to its durability and transparency. Additionally, the mould features multiple cavity numbers, including 1x2, 1x4, and 1x8, allowing businesses to customize their production process to fit their specific needs and requirements.
The mould's injection system includes a short tail, long tail, and pin valve gates, which allow for optimal flow control during the manufacturing process. Furthermore, the ejector system includes a stripper plate, which enhances the mould's efficiency and makes the production process faster and more streamlined.
The 5 Gallon PET Preform Mould's cycle time is based on the preform weight, and its delivery time is estimated to be between 45-60 days. The mould is designed to last for at least 3 million shots, making it a worthwhile investment for businesses in need of a long-term solution. Additionally, it comes with a one-year warranty or 1 million shots, whichever comes first, giving businesses the confidence they need to invest in this high-quality mould.
In conclusion, the 5 Gallon PET Preform Mould is an exceptional investment for manufacturers, factories, and wholesalers looking to streamline their production process and enhance their efficiency and productivity.
With its durable construction, multiple cavity numbers, and efficient injection and ejector systems, this mould is guaranteed to deliver consistent and high-quality results for years to come. Contact us today to place your order and experience the difference this mould can make in your business.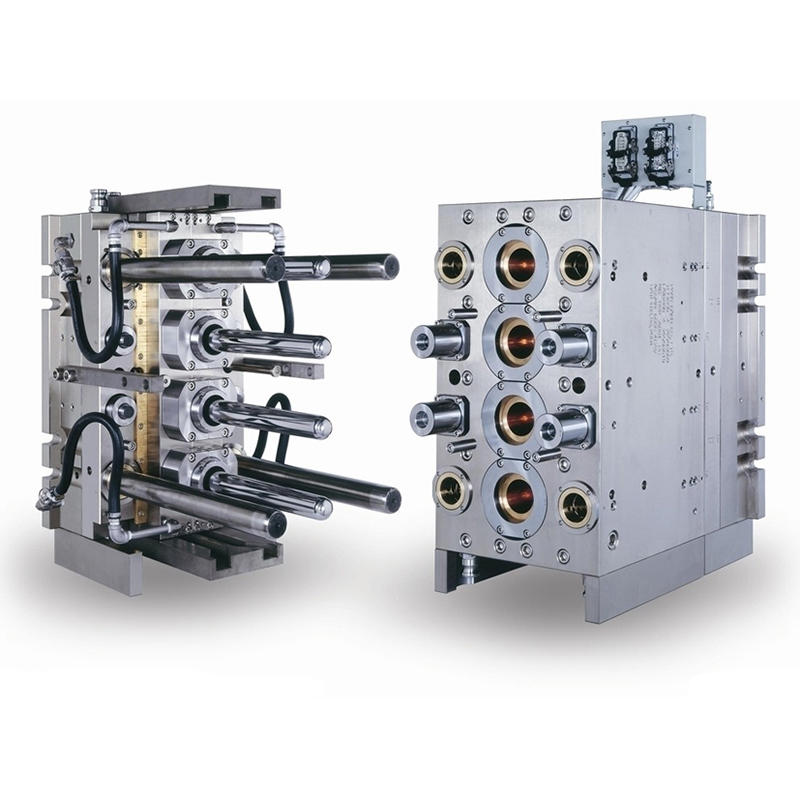 The mould plates are made of P20 steel with a pre-hardening process. The core and cavity are made of S136 high-strength stainless steel. The neck screw is made of S136 high-strength steel. The mould is completed by a one-time processing that ensures concentricity of the guide bush, the holes, and the mould's compact structure.
China manufacturer 5 gallon PET preform mould with pin valve gate hot runner system for the 55mm neck size bottle from 1 gallon to 5gallon. Bottle neck normally with press cap, but also can be with thread neck, thread neck and press neck can be exchangeable design on the same mould. The weight of a gallon bottle is from 180g to 800g. The disposable 5gallon bottle is around 400g, it is one-time-use bottle. Recycled use 5-gallon bottle is between 680g to 800g, but bottles with handle is suggested to use 730g or 750g.
The Pin valve gate hot runner system for 5 gallon PET preform mould is made of stainless steel with adjustable valve pins. This system eliminates the need for manual cut tail, which prevents over-heating and leads to improved efficiency. This system ties together an all-electric molding cell with a hot runner system. The valve gate is easy to adjust, and the valve is equipped with an electrical control system to monitor individual parts.
Product Name
5gallon PET Preform Mould
Core &Cavity Steel
S136,FS636,632 (Chinese Steel)
ASSAB S136(Sweden)
Mould base
P20,4Cr13, Standard Mould Base
Steel hardness:
HRC32-35 for slider and stripper palte and other plates
HRC49-51 for core and cavity material.
HRC49-51 for Neck ring and Lock ring
Plastic material
PET resin
Cavity Number
1x2,1x4,1x8
Injection System
Short tail, Long tail, Pin Valve gate
Ejector System
Stripper plate
Cycle Time
Based on preform weight
Delivery Time
45-60 Days
Mould lifetime
At least 3million Shots
Warranty Time
One Year or 1million shots