Introducing the 4L Two Parts Mobil Oil Cap Mould - a high-quality and durable mould designed for manufacturers, factories, and wholesalers in need of a reliable solution for producing 4L two-part Mobil oil caps.
This mould is an excellent investment for businesses looking to optimize their production process, as it offers numerous benefits that enhance efficiency and productivity.
At the heart of the 4L Two Parts Mobil Oil Cap Mould is a robust construction that guarantees longevity and consistency. The mould's core and cavity steel are made from premium materials such as S136, FS636, 632, ASSAB S136, with a steel hardness rating of HRC52-55. Meanwhile, the mould base is composed of P20, 4Cr13, and Standard Mould Base, which have a hardness rating of HRC30-35. Additionally, the ejector sleeve and other special parts are made from HRC60-rated steel. This high-quality construction ensures that the mould can withstand the rigors of continuous use without compromising its structural integrity.
The 4L Two Parts Mobil Oil Cap Mould can accommodate various plastic materials, including PP, PE, and HDPE, among others. Additionally, it features multiple cavity numbers, including 1x4, 1x6, 1x8, 1x12, 1x16, 1x24, 1x32, among others. This means that businesses can customize their production process to fit their specific needs and requirements.
The mould's injection system includes pin gates, submarine gates, and valve gates, which allow for optimal flow control during the manufacturing process. Furthermore, the ejector system includes unscrewing by motor, stripper plate, ejector sleeve, and ejector pin, all of which enhance the mould's efficiency and make the production process faster and more streamlined.
The 4L Two Parts Mobil Oil Cap Mould's cycle time is based on the cap design, and its delivery time is estimated to be between 45-60 days. The mould is designed to last for at least 3 million shots, making it a worthwhile investment for businesses in need of a long-term solution. Additionally, it comes with a one-year warranty or 1 million shots, whichever comes first, giving businesses the confidence they need to invest in this high-quality mould.
In conclusion, the 4L Two Parts Mobil Oil Cap Mould is an exceptional investment for manufacturers, factories, and wholesalers looking to streamline their production process and enhance their efficiency and productivity.
With its durable construction, multiple cavity numbers, and efficient injection and ejector systems, this mould is guaranteed to deliver consistent and high-quality results for years to come. Contact us today to place your order and experience the difference this mould can make in your business.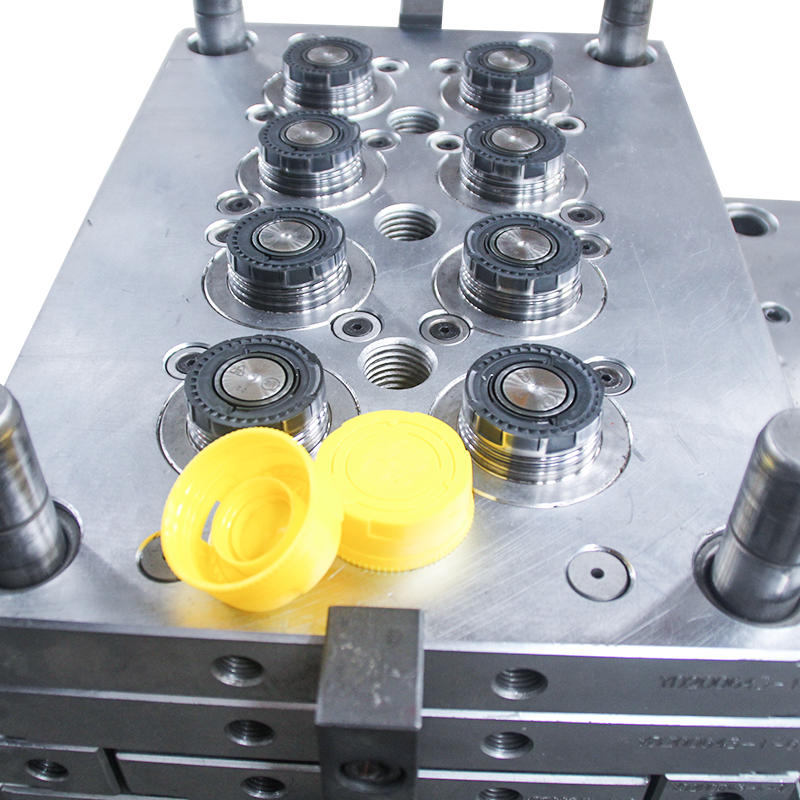 4L Two Parts Mobil Oil Cap Mould
4L two parts Mobil oil cap mould: this is for famous brand lubricant oil bottle usage.
Two parts Mobil/Motul oil cap is two parts and inside is the soft material which in general, we use EVA material and the function of this inner cap could be flexibility.
The Mobil Oil Cap Mould is a tool that is used for producing plastic bottle caps. It has been developed by SUNCO, one of China's leading mould and plastic suppliers. We focus on the design, development and manufacturing of cap moulds for oil bottles and other petroleum products. Product line includes cap moulds with a slider structure and unscreweding cap moulds.


4L Two Parts Mobil Oil Cap Mould Feature
1. This Cap have two parts, outer cap and inner dropper
2. Each cavity and core have independent cooling system for hot runner mould.
3. Different Insert parts can be engraved for different oil company brand name on top of cap
4. Stainless material have nice mirror hand polishing
5. Each mould plates with electroplating treatment, which play a very long time rust prevention
6. Runner system: Cold Runer, Half Hot Runner or Hot Runner system
7. Hot runner brand: China advanced brand or imported hot runner system brand.
8.Skilled Language in communication and experienced technical support